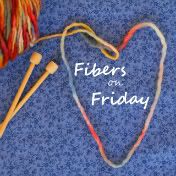 Hi there! Welcome to Fibers on Friday!! I'm happy to have you join this fun party dedicated to knitting, crochet, or anything else fiber related!
I mentioned a few weeks ago that I would be knitting some washcloths to put on the bake sale table at my Mom's fundraiser this weekend. I also mentioned that I knew I would only be able to pound out a couple because it just doesn't go that quickly for me. Well, I did complete two! I knit the horsey washcloth as planned and was thrilled with how it came out. I still had time to knit another, so I opted for the
cabbage patch
pattern, which I ADORE! I can't wait to make some for me!
Today I received a package in the mail from
Cris
. She volunteered to crochet some washcloths for this event! Despite having a little faux pas whereby her stash of washcloths was innocently taken by a friend, she was able to get SEVEN washcloths to me!! Amazing and thoughtful!!