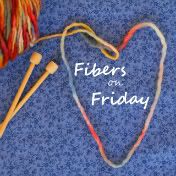 We're on a roll now! I finished the body of my February Lady Sweater! Starting the sleeves was a little harrowing, I must say. I picked up the stitches from the scrap yarn...no problem....I picked up and knitted the underarm stitches....no problem. Then, I started knitting in the round...yippie!!
But wait??? The pattern was coming out wrong...it was inside out....oh no! I was knitting in the wrong direction. ARGH!!
frog
I was so tense frogging back to those starting stitches. I just knew I'd lose some or mess up my count or something. But, I did it and it all worked out.

I've said it before and I'll say it again:
It's all about learning!
Not to mention, it's all about making this
beautiful
sweater as good as I can, because too much work and time goes into it to have something bother me because it's wrong.
So now, my fiber loving friends, I can't wait to see what you've been working on! I've invited even more people this week and I hope to see them here on Friday. My button is on the sidebar....I'd love for you to grab it and include it in your post or on your blog. Spread the word :-)