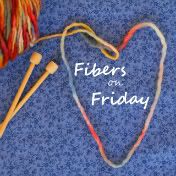 Hi there! Welcome to Fibers on Friday!! I'm happy to have you join this fun party dedicated to knitting, crochet, or anything else fiber related!
So, my knitting picked up this week. I finished Shalom. It now fits much better than before, although not entirely perfect. But, I believe better blocking could help with that. I think I need to take Elizabeth Zimmerman's suggestion that some people keep tracings of their favorite fitting sweater on a big sheet of paper to reference when blocking other sweaters. Because I don't manipulate my sweaters a lot....I don't OWN them, like she says we should. So, I need to soak it again....and own it....work it....make it MINE.
I worked on my socks a lot, too. I'm not posting pics of them because it would just be redundant at this point. Let's just say I finished the heel and gussets, now I'm finishing the foot. My kids have swim lessons twice a week now. So, this gives me two 1/2 hour sessions per week of sitting and knitting. Wooohoo!
And here's the scrappy table runner I did. I like it. I quilted it myself using the darning foot on my machine. I set out to just do maybe three huge spirally circles, but it didn't really work out that way....so I just totally GOT WILD....and randomly quilted. Whoah....somebody stop me. So it ended up having some big circles and some smaller spirals on the sides. I like it. I'm savoring the imperfection and homemadeness of it.
My home is becoming more and more hand made...hand crafted...homey. I made the bed with the quilt one day and then set the cute little
Ruby Lou doll
on it and it was just so sweet and so much of me put into that bed. It just fills me up.
And here's the stack of fabric for quilt #2 coming up. All the pieces are cut. Now I sew. Except we've had a major case of pukeys running through the house so it's getting kinda tough to craft. Poor babies.