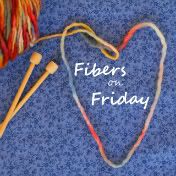 Hi there! Welcome to Fibers on Friday!! I'm happy to have you join this fun party dedicated to knitting, crochet, or anything else fiber related (like hand made pillows!)
I'll have more to post on the knitting front next week. I only have the toe to complete on my sock. I have cast on for a shawl I'm going to knit for my Mom. And I will start my washcloths for my Mom's fund raiser I spoke of
here
.
In the meantime, though, I went a little crazy sewing pillows yesterday and today. I've had these scraps laying around from my quilt projects. I knew I was going to make pillows, but I wasn't sure exactly what kind of pillows until I saw these
Sprocket Pillows
....I fell in love! This is as close to adventure sewing (as my cousin calls it!) as I'll probably ever get!
I didn't have full pieces of fabrics big enough for each wedge, so I made scrappy pieces of fabric from which to cut the wedges....so brave of me :-)
I used plain white muslin in between the scrappy wedges. And here you have it!
Then I needed to make one to match the other quilt. The quilt itself is not complete, otherwise I'd have already shown it to you. But here's a sneak preview of the fabrics I used. Again, I pieced together left over scraps. In this case, I made four 9" squares and sewed them all together and made this pillow which sports and
envelope-type opening
in the back for easy removal and washing.
And by now I was on a roll! I needed to make one for my bed. In this case, I only had one of the fabrics used in the making of my quilt. So, i looked through my stash and found two shirts that were already a little cut up for other projects. The off-white one is just a knit top. The green one is a shirred top.
I put it together with the blue print that matches my quilt and there you have it!
I didn't have to leave the house for any of this! Good thing, too, what with gas prices as they are. You have to make things work with what's on hand!
I LOVE how they all turned out. I love having a couple more touches of handmade on these beds which are quickly becoming more and more handmade with all the quilting I've been doing. Handmade touches all over the house. It makes me happy!