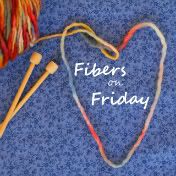 Hello wonderful people! Happy Fibers on Friday! I come to you today with knitting and crochet....side by side....happy as peas as carrots!
The vest that I'm knitting is for
Afghans for Afghans
. I'm knitting the
Keep Me Warm Vest
. And get this....I'm trying my hand at cables for the first time! You all assured me last week it was really easier than it seems. And I must say, it's pretty easy! In the picture you'll be able to see my first twist.
The afghan I'm crocheting is the
Offset Shell Pattern
by Oh My Good Knits.
My excitement this week came in the form of the Kindle Fire that I pre-ordered a couple weeks ago. I was on the fence for so long about using an e-reader, but I finally dived right in and went for the Fire. I just got it yesterday...there are definitely some kinks to work out, but so far it's fun! Have you read anything you'd recommend lately?