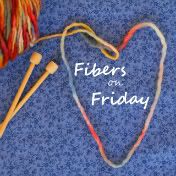 Fibers on Friday comes to you on this fine Veteran's Day. I'll remember and honor all who have served today. And I'll be a little sad to miss my annual Veteran's Day dinner with my dad since we're now living so far away. Here we were two years ago on Veteran's Day:
I finished my apron earlier in the week. I LOVE it!!
The pattern comes from Oh My Good Knits. It's called
Tessa.
It's perfect!! In fact, I'm kind of on a roll with her patterns. I made her Mary Jane slippers, which I'll show you soon, and today I started her Off Set Shell Stitch afghan.
It's also that time of year again for my annual knit for Afghans for Afghans. This will be my third year! I've done two sweaters (seen
here
and
here
), so this year I'm going to make a vest. I'm excited to announce that I'll be taking this opportunity to learn cables, a feat that's been on my to-do list for way too long!