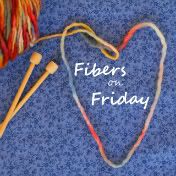 Hello and welcome to another Fibers on Friday!
I recently participated in my first ever craft swap! My cousin invited me to join a group of her friends who swap every year for the Day of the Dead. Have you ever learned anything about this Mexican Holiday? I really never read too much about it, but after being a part of this swap, I have to say I can really embrace this tradition of honoring and celebrating those we've lost. You can read more about it
here
, if you'd like.
There were five people participating in this swap. I received a lovely bracelet in meaningful colors associated with the Day of the Dead. I also got two pot holders (hot pads) which MATCH unbeknownst to each of the senders! Cute! And lastly, so far, a gorgeous felted pin in the shape of a sugar skull. One item is still en route to the U.S. from Ireland (read no further, friend, if you haven't gotten mine yet or the surprise will be spoiled).
So, in keeping with the textile theme of the swap, I decided to crochet my project. Check it out.
Aren't they great? Little crocheted skulls with decorative flowers. They can be hung as ornaments or placed on a mantel. I found the pattern for purchase on etsy
here
. They were very fun and easy and the pattern was written perfectly. I hope these special skulls have found their special place in the lives of their recipients!