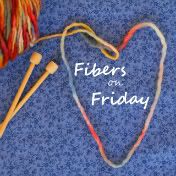 Happy Fibers on Friday! Welcome to this fun party dedicated to knitting, crocheting, and anything else fiber related! I was just in my craft room...organizing and unpacking...and I was startled into realizing it's Thursday!! Yikes! I gotta do Fibers on Friday!!
It's a little late. I don't feel like taking pics of the minimal knitting progress I've made this week, but I will show you my awesome score from today and how my craft room is coming along.
Last week I was at Hobby Lobby. Yes!! Hobby Lobby!! I should have added that "spot" to my list of spots from
this
post!! There was a scrapbooking organizing cubby type shelf thingy way back in a "clearance" corner. The box was torn up and it was the only one there. Anyway, I talked myself out of buying it, although I'm desperate for some organization in my craft room.
So, today we made our way back to Hobby Lobby and I told myself that if the kit was still back there, it was meant to be mine. And here she is
in only part
of her glory:
Only part of her glory because this thing is
so big
I don't even have room for it. And I have a
ROOM
now!! So, I just assembled it to fit my needs right now and all the other parts will be stored or used somewhere else until a later date. It's so modular and versatile. I took the doors off this closet and have bins with fabric tucked under the desk it's sitting on. A perfect little nook.
Anyway...here's the rest of the room waiting to be put together. I never...in my wildest dreams...thought I'd have a room dedicated to crafting. Now I'm having visions of actually having one of those *to-swoon-over* pretty crafting spots we always see in magazines. Haha....not really, but I'm QUITE thrilled with this little spot of mine!
Here is the custom made scrapbooking table that my talented man built me. This is the only space I had to work with in our old house...and it was in our bedroom! I love it, though, and it will still be put to good use. And it will finally be painted!!
And there's even a little room for exercising tucked back there in the corner. Nothing like sweating while you're gazing around your room dreaming of what to do next! Maybe it's just what I'll need when get those creative juices flowing!