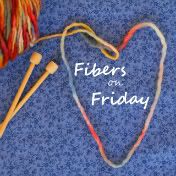 Hello friends! I am so excited about this Fibers on Friday! I'm glad you're here to join this party dedicated to knitting and crocheting (or anything else fiber related...sewing?).
Ever since I started hosting this party and looking through all of your
wonderful
projects I've had a little tiny itch to learn how to crochet. There are so many
darling
projects out there that you have shown me and I just feel a little limited by not being able to jump in and crochet a thing or two.
So, like I don't have enough to do right now (like us all); like finishing up my craft room....actually crafting in my craft room, knitting my mom's shawl, treating my kids to their very abbreviated summer by having as many fun days as possible before school, working on my list of furniture pieces I'd like to refinish.....I decided to learn how to crochet!! My kids say I'm "coo coo nuts"!! I'll go with that one!
Yesterday I sat down with the lap top, opened two pages on Lion Brand's website;
Learn to Crochet
and a washcloth pattern, and I got to learnin'!
This
was the first washcloth pattern I picked. I ended up unraveling it at this point because it wasn't turning our great. I'm finding the stitch definition in crochet a little more ambiguous than in knitting. So, when it called for "slip a stitch in one half double crochet...then half double crochet in the next stitch" I wasn't really sure I was ever in the right stitch.
No problem. I chose another pattern. I'm liking
this one
much better. It's mostly double crochet and now I'm on to the edging which is single crochet and making corners. Lots of learning here! As you can see I started out with my chain kind of tight, so the cloth is not perfectly square. That's OK.
Also, my edges are kind of wonky. Like I'm not ending each row the same way each time. I don't know about that. Any advice? It's just not as cut and dry as knitting. Or maybe it's just me.
Anyway....I'm really enjoying this new endeavor! And in all actuality it's not an entirely new endeavor. When I was a teenager, I knew how to crochet. I made a couple afghans, but the only thing I knew was how to make a Granny Square Afghan...and I probably wasn't doing it entirely right. So, this has brought me back a little and it's given me the sweet opportunity to dig out my Grandmother's old crochet hooks and think about her while I crochet....imagine her hands on these hooks...and it makes me feel peaceful and in tune with her.
Look at this old stuff in her sewing chest. That old beat up wooded round thing was used for darning socks. It looks like that one was used a lot! The three pick-like things are needle holders (made from Ivory....yikes...no comment). Her needlepoint eye-glass case with her name and lots of other old tools.
Meanwhile, my girlies are really asking to sit down and knit more and more often. Paige does about 5 stitches and then asks me to finish the row. Madison, on the other hand, will sit and knit a few rows at a time. Look at her awesome progress:
Oh...and I almost forgot...I did finish last week's knitted washcloth!