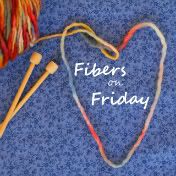 Hello friends! Happy Fibers on Friday! I'm glad you're here to join this party dedicated to knitting and crocheting (or anything else fiber related...sewing?).
I made another crocheted washcloth this week, along with plugging along on my
Multnomah Shawl.
I'll show you the progress on that next week.
Guys, I really love how quickly crocheting goes!! I love that I have a finished project to show you (albeit merely a washcloth), while still making slow progress on my shawl.
This is the Grit Stitch Washcloth from the
Sandy Shore Washcloth Set
found on Lion Brand's website. The one I did last week was also from this set; the Double Crochet Washcloth.
I need to move onto something else now....suggestions for a nice step up from washcloths??