Poppies will make them sleep....sleep...sleep....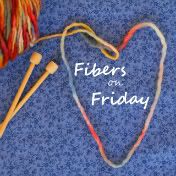 Welcome to Fibers on Friday! A fun day to share our knit and crochet projects (or a quilt or two!).
Last week I showed you my quilt top and asked for opinions on which way I should go with the actual quilting process. Well, I decided to take a long arm class and do it myself at the quilt shop. So, that class is happening on Tuesday. Hopefully next week I'll be able to show you the finished quilt.
On the knitting front, however, I did finish another hat. This is the third one I've knit with this pattern called "
Poppy
" (The yarn is Bernat Felting Natural Wool in Crocus). It's so flattering on this girl! But, she grew out of her older one, so I made her this one. (Plus, I started a new pair of socks).
Two administrative notes :-) I added a new comment system to the blog. Now we can respond in thread-form to one another. Make sure, though, if you want to be notified of follow up comments, to check the box. I like this system when you ask a question, you don't have to deliberately go back and check for responses, you'll be notified. Also, I did not leave a comment on every single link this week like I have been trying to do. As you see, we got upwards of 30 link-ups! That's AWESOME!! I look at and revel in each one, but I just didn't have to time to comment on all.