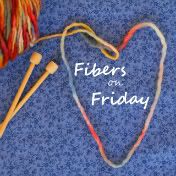 Hi there! Welcome to Fibers on Friday!! I'm happy to have you join this fun party dedicated to knitting, crochet, or anything else fiber related! I'm sorry I messed the linking up last week by having it split between text only links and thumbnail links....ooops :-(
I feel like my knitting is a little stagnant right now. I never thought it would happen....I was on such a roll all winter. I guess with my new quilting endeavor, the knitting as been pushed aside a little. What I need to do is finish this
Shalom
....for the second time! And to get these socks done and move on to something NEW. I need NEW...NEW....NEW!!!
Luckily I have YOU....YOU....YOU....to show me NEW....NEW....NEW!!!
So, here's my sad little pile of works in progress. I have several inches of the Shalom to complete (you may recall I'm re-knitting half of it because I didn't love how it fit. So I'm knitting the body again without waist shaping and I've added a few stitches to both sides of the front.) And I've made very little progress on the socks.
But yesterday I whipped together this little table runner to accompany my girl's purple quilt. Of course, it was all scraps I had left over. I intend to quilt it in a circular motion, which really changes the whole feel of these straight pieces (at least it did in the picture I'm using as inspiration). It's from a book I just got from the library called
Fresh Quilting
.