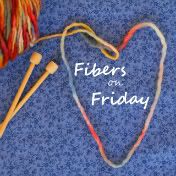 Welcome to Fibers on Friday, a day that we can all come together and parade our crochet and knitting projects! And more
specifically
this month, to participate in a sock challenge, Turning Heels in the New Year!

How are the socks coming along? I've had much success and I'm still thrilled with the progress. I feel a sock addiction coming on, I must say! I really love the pattern I've suggested for this challenge, it's knitting up so nicely.
Here is our time line for the sock challenge:
Here's where we are in our time line to knit a pair of socks by the end of January:
By Dec. 31st everyone needs to have gathered their supplies and checked their gauge.
January 7th we'll show off our cuffs and leg of the sock.

January 14th we'll show off our heels. Yes, Turning Heels in the New Year

!
January 21st we should be done our gussetts and foot and be ready to close the toe.
January 28th we'll be well into our second sock and we'll display our works in progress.
By Feb 4th we should be able to take a picture of our feet adorned in TWO fabulous socks!!
I did decide that I need to teach myself the Continental style of knitting in order to speed things up a bit. So, I watched some videos and started on a washcloth; a project that doesn't mean much, doesn't have to be pretty, but would give me practice. Here it is; the tension is not even, there are some mistakes, but overall I'm happy. I'm not ready to put the new method to the test with socks or a sweater, but I will move on to bigger projects using it.
And as if that wasn't enough knitting, I started a sweater.
The Shalom
.
Ahhhh
, I've been waiting and waiting to start this. I put it on the back burner in order to finish the sweater for Afghans for Afghans. Well, that has been mailed off, so onto Shalom!
My list of link parties is listed on my sidebar, but this has been a pretty big week of link-ups which has introduced me to a few more parties: