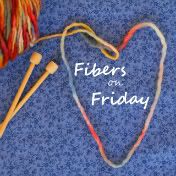 Welcome to Fibers on Friday, a day that we can all come together and parade our crochet and knitting projects! And more
specifically
this month, to participate in a sock challenge, Turning Heels in the New Year!

A sock! A sock! I have a sock that I love and can't wait to wear! This is a first....I love firsts! Thanks for taking this journey to sockhood with me, guys! My second one is on the needles, I've completed the ribbing and have about 2 inches of the leg knit. It's such slow going. I'm convinced the Continental method of knitting will help on future socks, I just wasn't ready to employ it now....would have had unequal socks, I'm sure.
Have you closed your toes? Did you have any problem with the Kitchener Stitch? It's a really nice seam, but I don't foresee myself memorizing the steps any time soon.
Last week I showed you my sweater,
The Shalom
, that I started. Thanks for all the lovely comments. Little did I know at the time, I was already pretty deep into a several row mess-up. Seems I don't read patterns very well, since I've already had to frog twice on this sweater! I had to rip out about 7 rows at that point because I was past the point of needing to start my increases. Then I got that worked out and was right at the point that I needed to increase once more and I messed up one row, so I frogged that. I need to pay more attention.
Next week we'll show our works in progress. In case you're deciding now to join this challenge, here was my proposed time line. You're not too late...especially if you're fast like
Forward Tumble
....that girl can put out some socks!
Here's where we are in our time line to knit a pair of socks by the end of January:
By Dec. 31st everyone needs to have gathered their supplies and checked their gauge.
January 7th we'll show off our cuffs and leg of the sock.

January 14th we'll show off our heels. Yes, Turning Heels in the New Year

!

January 21st we should be done our gussetts and foot and be ready to close the toe

.
January 28th we'll be well into our second sock and we'll display our works in progress.
By Feb 4th we should be able to take a picture of our feet adorned in TWO fabulous socks!!