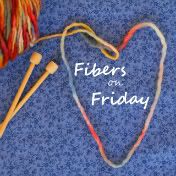 Welcome to Fibers on Friday, a day that we can all come together and parade our crochet and knitting projects! And more
specifically
this month, to participate in a sock challenge, Turning Heels in the New Year!

Here's where we are in our time line to knit a pair of socks by the end of January:
By Dec. 31st everyone needs to have gathered their supplies and checked their gauge.
January 7th we'll show off our cuffs and leg of the sock.

January 14th we'll show off our heels. Yes, Turning Heels in the New Year

!

January 21st we should be done our gussetts and foot and be ready to close the toe

.
January 28th we'll be well into our second sock and we'll display our works in progress.
By Feb 4th we should be able to take a picture of our feet adorned in TWO fabulous socks!!
Here is my sock #2. I've been asked by a few of you what the yarn is. I had to go to the yarn store (an hour away!) to find out! It's Schoeller Stahl Fortissima Sock yarn color #25.
Did I confess you to a few weeks back that I was a one-project-at-a-time knitter? Then, do tell, how did this happen? THREE projects on needles! Here is the
Shalom
. It's coming along nicely. It's very nice to have this sweater going on such BIG needles (in comparison to my toothpicks for the socks), for a nice change of pace. I'm just about ready to divide for the arms holes.
And here is project #3. A hat for Rainbow loving girl. When I stopped into the yarn store for the sole purpose of finding out what the yarn is that I'm using for the socks (I threw away the sleeve a while back). Madison saw this yarn and actually started crying because I said I wasn't there to buy yarn, but I'd come back later for it. I'm not trying to raise a spoiled brat, but my girl was begging for YARN of all things! I couldn't resist. It's called the Sheepy Time
Swirl Hat
. I'm not getting a good feeling about the ribbing....I think it's going to be too big. But look at those colors about to emerge!
So next week, my friends, the challenge is over. We will show a picture of our two beautiful socks! Maybe some of you have been secretly participating in this challenge and will surprise us with a big reveal!