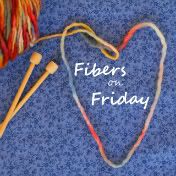 This week was a flop for me. I started the little hat for one of my girls and there are several things wrong with it:
The yarn is cool. It's the type that goes back and forth from thin to thick. It lends itself to cool visual interest. That, coupled with the cool colors, should make for an awesome hat. But, the chunky parts of the yarn came around at the SAME point in the rounds every.single.time! So, you can see in the ribbing, it's chunky every 2 inches! Am I missing something obvious here, friends? Is there some algebraic equation that makes perfect sense as to why this happened? Or is it purely coincidence? Either way, I don't like how it looks. It's very uneven and not in a nice random kind of way.
It's too big! The little one says she likes it just fine, "It's perfect!" But it seriously fits me.
I ran out of yarn! I can't finish it until I get back to the yarn store.
So, that's all I have for you this week.
On a positive and more exciting note, I've decided my next project will be another sweater for
Afghans for Afghans
! Last year I made
my very first sweater
for the cause and I figure it's about time to do another. The campaign right now is asking for sweaters, vests, hats, socks, and mittens for youth. I have fours skeins of superwash wool. I will try to make a sweater, but if I look low on yarn, it will be a vest. Visit their site to read all about it.
I'm going away this weekend! It's a girl's scrapbooking weekend at a beach house! It's fall and it's chilly, but I'm looking forward to being "down the shore" for a nice productive weekend! I know it will be a busy week with Thanksgiving festivities. I'm thankful for you all who take the time to look at my projects and comment and even join in on the fun!