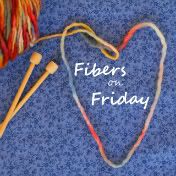 Here it is in completion!
Beth's February Lady Sweater
. Anyone who loves sweaters should knit this one! Anyone who has never knit a sweater, but wants to give it a shot, should knit this one. Anyone who says, "I wish I could knit sweaters", should knit this one! It's lovely. The pattern is written nicely. The lace pattern is not difficult. It's simply wonderful.
Here is what is on my needles now,
Something Beautiful Shrug
, for one of my girls. I'm knitting it with Brown Sheep Cotton Fleece, must say I'm not loving the yarn. It doesn't give, it's very slippery. Oh well, hopefully it will be a short project.
Our party is growing little by little. What really makes me happy is when I click to leave comments on someone's project and see that someone else from here already has. Spreading the love....spreading the love! So, please grab my button on the sidebar and keep spreading that love!
And I'd like to spread a little love for my friend Stephanie, who's sponsoring a give away over at
Make It and Love It
. Stephanie is a consultant for Thirty One Gifts, plus she's my berry berry good friend. Go see what she's all about and enter to win something!