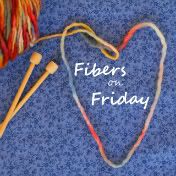 Look at this! I finished one whole sleeve this week and have started the second. I'm so excited and still so....SOOOOO....in love with this sweater!
What have you been working on? Please show me anything you've knitted or crocheted....a recently completed project, your all time favorite project, a work-in-progress, or a picture of what you want to work on next.
Here's what is on MY radar, the
Shalom Sweater
. In my quest for my next project I came across this version by Three Pumpkins Little and I'm totally in love with the way it turned out, the yarn looks fabulous and perfect. Yup....up next for sure!