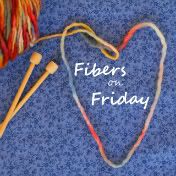 Hello, awesome people!! I cannot even express how exciting last week's party was for me. First of all, it grew again. Second of all, it warmed my heart immensely to be leaving a comment on someone's post and see that someone else from
Fibers on Friday
already had! My dream come true....my very own knitting circle! I'm not aware of any other parties dedicated just to knitting and crochet (I know they're out there....and I'm seeing a lot of mention of WIP Wednesday, I have to check out) so I'm just
really, really
happy about this one. And lastly, you guys left me
the sweetest
comments about my sweater. Thank you! Thank you! Thank you! You all are as warm as the sweaters and blankets we make....and then some!
So, this week I started....and finished....the
Something Special Shrug
! The other night before bed my girl said, "Mom, can you knit A LOT tonight, because I want to wear my shrug tomorrow?" So, I worked as hard as I could. I blocked it last night and when I had her try it on for these pictures, she didn't want to take it off even though it was still a little damp.
I love the pattern, but I'm not thrilled at all with this yarn (I think it needs a project requiring much smaller needles, like US 5 or smaller). It's a little too stretchy and not tight. It's Cotton Fleece from Brown Sheep. I'll stick with wool for my next one....I was really trying to just pull from my stash.
So, here's the photo montage of my little model in her shrug. When you're done perusing, please grab my button and post it on your blog for your yarn loving friends to see. And then post away!! I can't wait to see what you've been working on!