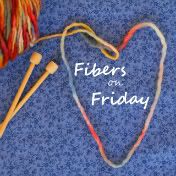 This week's Fibers on Friday is EARLY because I'm beyond excited to show you the
MULTNOMAH SHAWL
in it's entirety!! Plus I haven't posted in a week! Blame it on the Daisy's again :-)
So welcome! It's great to have you here. Won't you join us in showing off your knit or crocheted or otherwise fiber related project?
Without further ado, here she is:
Isn't she lovely? Isn't she wonderful? This project was pretty exciting to cast off from because the beauty was hidden on the needles that whole time. The ripples, the ridges, the fanning....all scrunched up and secretive because they won't let themselves known until they're freed from the needles. And then....they're still being shy until they take a nice bath and then a nice massage onto the blocking towel. Not until all that do they break out and scream.....'Hello!! Aren't I beautiful?!'
Mercy this was such a pleasant project!! Completed just in the nick of time, too, because next weekend I'm heading up to NJ and I'll be able to give this to my Mom. Yes!