Welcome to Fibers on Friday, a party dedicated to knitting and crocheting or anything yarn related!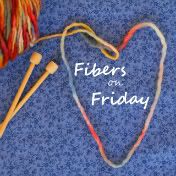 A whole week since posting! I'm sorry I did not comment on any of the links from last Friday, as I mentioned last week, we were off to our second annual ski trip with some good friends. It was a blast! We are all still in one piece and can't wait to go back. My kids enjoyed their first lessons:
I did not get as much relaxing knitting done after our days on the slopes as I had anticipated. I was just too beat down tired! All I could muster was a nice cold beverage and food:
But, I did complete Madison's hat which I call the Rainbow Sherbert hat. Look at these beautiful colors....oh! I love this yarn!
Here
it is on Ravelry.
Now I only have one project on needles; the
Shalom cardigan
. I will finish this before I start anything else (I think). Originally I had planned on making this a long sleeved sweater, but when I got to the point of dividing for the arm holes, I had to make a decision. It looks right now as though we'll be moving to Florida this summer, so I decided a short sleeved sweater might get more use during the cooler winter months down south. So, I'm sticking with the original pattern exactly.