OK, OK, this was not the direction I was going when I decided to host Fibers on Friday, but you'll just have to accept my quilt as my work with fibers this week. Rest assured, I knitted. A little. But, man, I REALLY got into this quilt!
Before I show you, can I just tell you again how
happy
this party makes me? I thank you
sincerely
for accepting my invites, hopping over from whichever blog you were visiting, linking to, or writing from and checking us out and linking up! I
love
getting new followers every week and I
adore
seeing the same people return each week. It's nice that this party is so intimate that when someone is absent for a week or two, they're missed :-) And most of all, I love that the days with the most hits to this blog are days when I'm just posting about knitting and this party...because it means that all of
YOU
are checking in, sharing, and having fun!
Fiber time!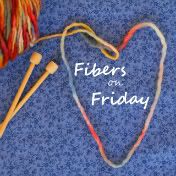 I gave you a sneak peek of the fabric last week. I spent Monday, almost all day, cutting.
How does this little pile of squares turn out to be a twin sized blanket? I spent quite some time pairing up the colors and designs...
Had my nice little stack ready for assembly line-style sewing...
Purple loving girl spent at least an hour diligently placing squares in an appealing order...
And today I finished the quilt top....here it is!
I'm so happy with it! But now I have a very difficult decision: do I quilt it myself? And in doing that I know I'll only be able to do straight line quilting. Do I take a class at my (somewhat) local quilt shop and learn how to use their long arm quilting machine? Or do I just contact my great quilt lady who finished my
big quilt
for me a couple months ago and have her do a really cute, whimsical, job on it? I'm torn.
Anyway....now I'm looking forward to seeing what you've been up to....do tell!