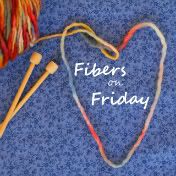 The only thing I've worked on this week (as knitting goes) is my Steppe Ahead Sweater for Afghans for Afghans.
I'm still enjoying it, but I have to say the pattern gets kinda hectic at times. Nothing unmanageable, but hectic! I should have taken pictures of some of the jumbled mess I had going on, but here's the run-down:
2 straight needles were acting as stitch holders for the live stitches for each front shoulder piece as I knitted the back.
1 set of circular needles as I was knitting the back.
1 length of cut yarn hanging off 1 straight needles to use for 3 needle bind off when ready
1 entire ball of yarn hanging off the other needle ready for picking up and finishing the collar.
1 entire ball of yarn as working yarn for the back.
Wow! Gobbly-goop! It all works out, it's just crazy. And I'm lucky to have accumulated all those needles and had them handy.
So, what was new? What have I learned? 'Cuz we all know, if we're not learnin' we're burnin':