A button! A button! I have a button!
And no, not a button to sew onto
my sweater
, but a button for my Fibers on Friday party! Check it out: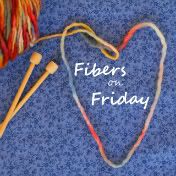 It's in my sidebar for all to grab! I'm so excited about it, can you tell? I made it myself following a couple of awesome tutorials starting
here
.
The progress on my February Lady Sweater is not worthy of a new picture, but that's not to say I don't want to see YOUR current knitting or crocheting projects!
So, grab my button and let's test this baby out! Link away!