I made pillowcases today for Craft Hope's Project #9
Conkerr Cancer
. It makes me feel so good to contribute and hopefully make a bright spot in a sick child's day. Heart wrenching. It's one of those causes that I needed to take a deep breath to read about. It was nice, though, to talk to my kids about sick children and what we can do to hopefully cheer them up. It was nice to go to the fabric store for the sole purpose of picking fabric for this project. Nothing else! This was our mission!
****Please note: They are no longer accepting pillowcases for this cause, but I'm posting this tutorial just for anyone who wants to make easy pillowcases in general :-)****
I've turned this into a little tutorial, because I'd never made pillow cases before and frankly, the instructions were a little vague and maybe intimidating. So, I searched for a couple different methods and made this little compilation gathered mainly from the
pattern
on Craft Hope and
this video
. Click any image if you need a bigger view.
I find this cutting mat and rotary cutter useful in straight, precise cuts of fabric.
You'll need 3/4 yd of main fabric and 1/3 yd for the cuff
After you've washed and pressed your fabric, cut it to the correct measurements;
26 1/2 x 40 1/2 for the main fabric
10 1/2 x 40 1/2 for the decorative cuff
lay them out, right sides together with the cuff fabric on the bottom, and pin raw edges on the longest side:
Next, you're going to start rolling the other edge of the main fabric in towards the pinned edges. I pinned the left edge, so I'm rolling the right side edge over.
You'll start revealing the cuff fabric underneath and you'll then wrap that over the rolled fabric and pin along the raw edge.
A peek at it all rolled up and pinned along that left side edge.
Sew that long, raw edge with 1/4" seam. The rolled up main fabric is enclosed within.
Then, turn it right side out! It's magic, I say it! You'll end up with the pillow body with a beautiful,
SEAMLESS
, cuff!
Press for a nice crisp cuff.
Next, fold it back with right sides together again and pin. Starting at the cuff side, sew the remaining two sides. I used an over-lock stitch so the raw edge wouldn't fray. You could also surge it or do a zig zag stitch. Turn right side out and press.....you've got yourself a pillowcase!
And there you have it! Is it clear as mud? I hope that if you want to try your hand at pillowcases and you've never done one before, that this tutorial will help. It's really simple and lends itself to assembly line construction quite well....I made three more in a row right after I took all the pictures of the first one.
If you'd like to read more about the Conkerr Cancer cause, visit Craft Hope. Have your sewing machine at the ready....I know you'll want to do this!
I will spread the word by posting this to these parties: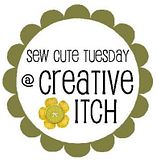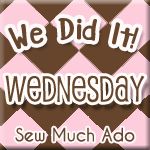 Blue Cricket Design