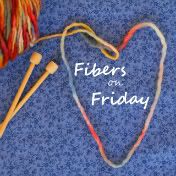 Happy Friday!! I'm trying to post this week's knitting picture from my phone....
Wow! That was easy....but boy, is it ugly!?! Well, you get the idea. The vest....my first cabled project...is coming along nicely (despite how it looks in pictures!). I've completed the back entirely, cast off for the neck, and have the shoulder seams on holders. Now, I'm finishing off the front neck and it should be ready to ship!
Who's ready for this year's sock challenge??? We have a lot of new followers, so let's look back at last year when we did our first annual "
Turning Heels in the New Year
". Have you knit socks before? Are you an old pro who proclaims there's no sock like a knit sock? Have you always wanted to knit socks but haven't had the courage to take the plunge?
Well, in any case....join me!!! Below you'll find my projected schedule. Last year I found this time line to be the perfect amount of time to complete each phase without too much stress. If you'd like to join in, you have this entire week to gather your supplies, maybe get a book if you've never attempted socks before (may I suggest
Getting Started Knitting Socks
?), and check your gauge. And we'll take it from there!
Here's my plan: to knit a pair of socks by the end of January:
By Dec. 30th everyone needs to have gathered their supplies and checked their gauge.
January 6th we'll show off our cuffs and leg of the sock.
January 13th we'll show off our heels. Yes, Turning Heels in the New Year!
January 20st we should be done our gussetts and foot and be ready to close the toe.
January 27th we'll be well into our second sock and we'll display our works in progress.
By Feb 3rd we should be able to take a picture of our feet adorned in TWO fabulous socks!!
What do you say? Sound doable? Are you game? Here are the supplies you'll need:

sock yarn- 2 balls
double pointed needles-size US 2 or size to obtain proper gauge
this pattern-Silky Soft Socks by Premier Yarns as found on Ravelry and here is the PDF
The one and only sock knitting book I own is called Getting Started Knitting Socks. Maybe look for it at your library this week if you're so inclined. I found it very helpful.
I'll work on our button from last year so we can all show that we're participating in the sock challenge. I'll try to do that this week.