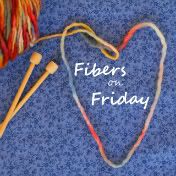 Hi everyone! Welcome to Fibers on Friday! I hope you're all gearing up for a nice, long, final weekend of the summer. Unfortunately for us it's predicted to rain all weekend. Oh well, we have a bedroom to paint and maybe the girls and I can get some crafting on!
This week I worked on two crocheted flower patterns. This is one I found on Pinterest:
I've been using this one as a mug rug, but these would be great sewn on a pillow or something. I had fun with it!
I also have a flower pot holder in the works, but it's a tangled mess of loose ends that need to be weaved in, so I'll show it to you next week when it's all finished and pretty.