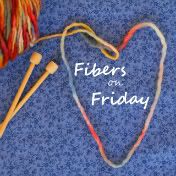 Hi! Welcome to Fibers on Friday! Thank you so much for continuing to party last week even though I had nothing to show! This week, I crocheted two things; a bunch of hair pretties and a baby cocoon for photo shoots.
Here are the hair pretties. A terrible picture taken in the dark. I'm sorry.
And now I can't, for the life of me, find the link that showed how to make them. Argh! Essentially it was this:
chain 6 and connect with a slip stitch to make a ring.
chain 2
2 HDC through the center, chain 2
slip stitch through the center
repeat 4 MORE time. (as you can see I only did 4 total which leaves me with only 4 petals. I think 5 would be better.)
Then hot glue a button on the center and glue it, along with some ribbon, onto an alligator hair clip.
As for the baby cocoon....TEASER!! I really want to wait and show you when I have an actual baby posed in it! I took pics of a baby yesterday, but she was having nothing to do with the cocoon, so it will have to wait. Maybe next week.