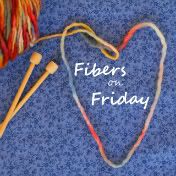 Hello friends! Happy Fibers on Friday! I'm glad you're here to join this party dedicated to knitting and crocheting!
Because it's fiber related, and because I think it's a wonderful thing to do, please check out my post from yesterday about the
Christmas Stocking
for the latest Craft Hope project.
This week, in crocheting news, I made a pot holder. A
Fanciful Flower Pot Holder
, which can be found on ravelry. Oh it's gorgeous, isn't it?
I LOVE how it LOOKS. Love it! But, I'm very sad to say I burnt the ever loving snot outta myself when I tried to actually use it on a hot pan of cookies. Dropped the cookies. Cookies went splat. Burn on my thumb. Perhaps a couple profanities, but I can't be sure.
The patterns suggests that because of all the layers of ruffles, it should be perfectly usable. I say it probably is, but you have to be super careful to have it folded up perfectly so as to not be burned.
The yellow yarn is Lion brand Cotton. The fuschia is Cotton Fleece from Lamb's pride (I think). The aqua is from Knit Picks Dishies. The pattern is written without the very center part filled in. I simply made another little loopy magic ring thing and did a couple half double crochets and sewed it in with yellow yarn. I likey.