Rainbow girl has never had a mirror in her bedroom....until now! I bought this mirror at a thrift store. It came with a horrendous metal shelf.....all for the bargain price of $5.
I actually like how it looks in these pictures.....but in real life??? Not so much, especially for a little girl's room. It was dirty, dusty, and grimy. We took the back off and we were able to take the mirror out, which was extremely helpful in being able to clean it real good and also paint it without having to tape off.
And here it is in all of it's pink glory, the first pictures does no justice for the color, but I like how it captures my girl with flowers on the deck.
I just love it in her room!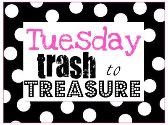 Blue Cricket Design
Sew Much Ado
Somewhat Simple
House of Hepworth's