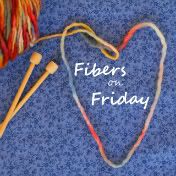 Happy Fibers on Friday! Welcome to this fun party dedicated to knitting and crocheting!! Thank you for rockin' last week's party while I was gone! I had fun using my husband's iPhone to check out the links that were rolling in!
We had a blast on our camping trip! And would you believe I did not take a single picture? Steph did, but I chose to remain camera-free! The weather was outstanding, albeit buggy. It was warm enough that the pool felt wonderful and we enjoyed every day at the water park. Year past, it was too cold to enjoy those treats! We had fantastic, mouth-watering, home cooked meals which had us all
yummmmmm'ing
at the picnic table. But best of all, we enjoyed a last traditional trip with our dear friends before we move to Florida.....precious memories and we can't wait to be able to link up again....anywhere!
As for the knitting. I did a little on the car ride to the ferry. I also knitted on the ferry while trying to keep my mind (and semi circular canals) off the rocking of the boat and let the dramamine do its job. Not much to show for weeks of sporadic work on the
Multnomah Shawl
, but here it is
I love the color (which seems a little brighter than in real life in this picture). It's called Everlasting by Dream and the color is called Tide Water. So nice!