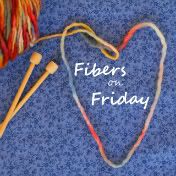 Happy Fibers on Friday! Welcome to this fun party dedicated to knitting, crocheting, and occasionally a pillowcase or two!!
Mass chaos is about to ensue around these parts. In six days the movers come to pack up our stuff and move us to Florida. It's sad, but exciting! We've started saying our good-byes to family and friends. Those are never easy, but we've got a lot to look forward to.
So.....we may have to put this party on hold for a while :-(
Boo!! Hoo!!


Who knows....maybe I'll be itching to jump on the lap top and publish a party while we're enroute. But, if time does not allow, please know I'll be back ASAP!!
I started to panic the other day that we'd have our first lost tooth while we're in transit!! Yikes! I have big plans for summoning the Tooth Fairy!! Paige's tooth is quite loose, so I got the sewing machine out while I still had a chance to make a special pillowcase for nights we're awaiting the good Fairy.
I have two girls, but I only made one special pillowcase. I thought that just having one would make it extra special for the one who just lost a tooth. I envision making a big deal out of the bedtime routine....placing the tooth just so....under the pretty, girlie, pillow with satin and sparkles. (Who wants to wager that we'll ever be expecting a visit from the Tooth Fairy on the same night?!)
I took this photo outdoors in an attempt to capture the sparkles in the fabric. Unfortunately, it didn't happen, but trust me, they're there.



And then I made a frilly little pouch for the tooth (and ultimately, the treat).
So, we're all set! Ready for the big day, whenever it happens! We'll be taking a long journey on our way down to Florida, camping along the way! Our special pillowcase will be with us, just in case the tooth fairy needs to find us in a campground!! Fun!!