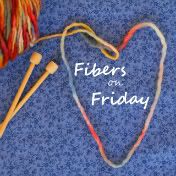 Hi there! Welcome to Fibers on Friday!! I'm happy to have you join this fun party dedicated to knitting, crochet, or anything else fiber related!
I am prepping for a
FUN
weekend getaway with 6 girls.
New York City
, here we come! I have an old Army buddy coming all the way from Texas to join us. We are going to see
Wicked
...we are going to be pampered at
Bliss Spa
....we are going to
EAT
lots of yummy food...there will probably be some drinking of yummy wine....and of course, lots of
LAUGHTER
. I am so excited!
So, I'm just going to open this party now and let you guys run with it. I'll be back Monday morning to see what you've linked up and maybe I'll post the highlights of our weekend.