*********
Don't forget to enter my first Giveaway!!
*******
Details on how to win a Thirty One Tote bag can be found
here
.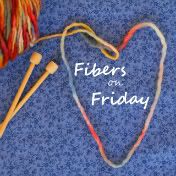 Hi there! Welcome to Fibers on Friday!! I'm happy to have you join this fun party dedicated to knitting, crochet, or anything else fiber related!
I totally thought last night was Wednesday, so I'm late at getting this party going. It's Spring Break for my kids, so I'm a little out of whack! Also, it's their Birthday this weekend....on Easter Sunday actually. So, we have lots of stuff going on.
I need advice por favor: Where is the best place to start in terms of learning how to cable knit? That was one of my goals for this winter and it never happened. So, now I'm trying to choose something to knit for my Mom and I'd like it to have cables. I LOVE Elizabeth Zimmerman's Hand-to Hand Aran, and she says use whatever cable pattern you like. Thanks for your advice!
Here is sock #2 on my needles
I'm LONGING for a bigger project....must find time!!
For more Fiber Arts Fun, visit
Wisdom Begins in Wonder!